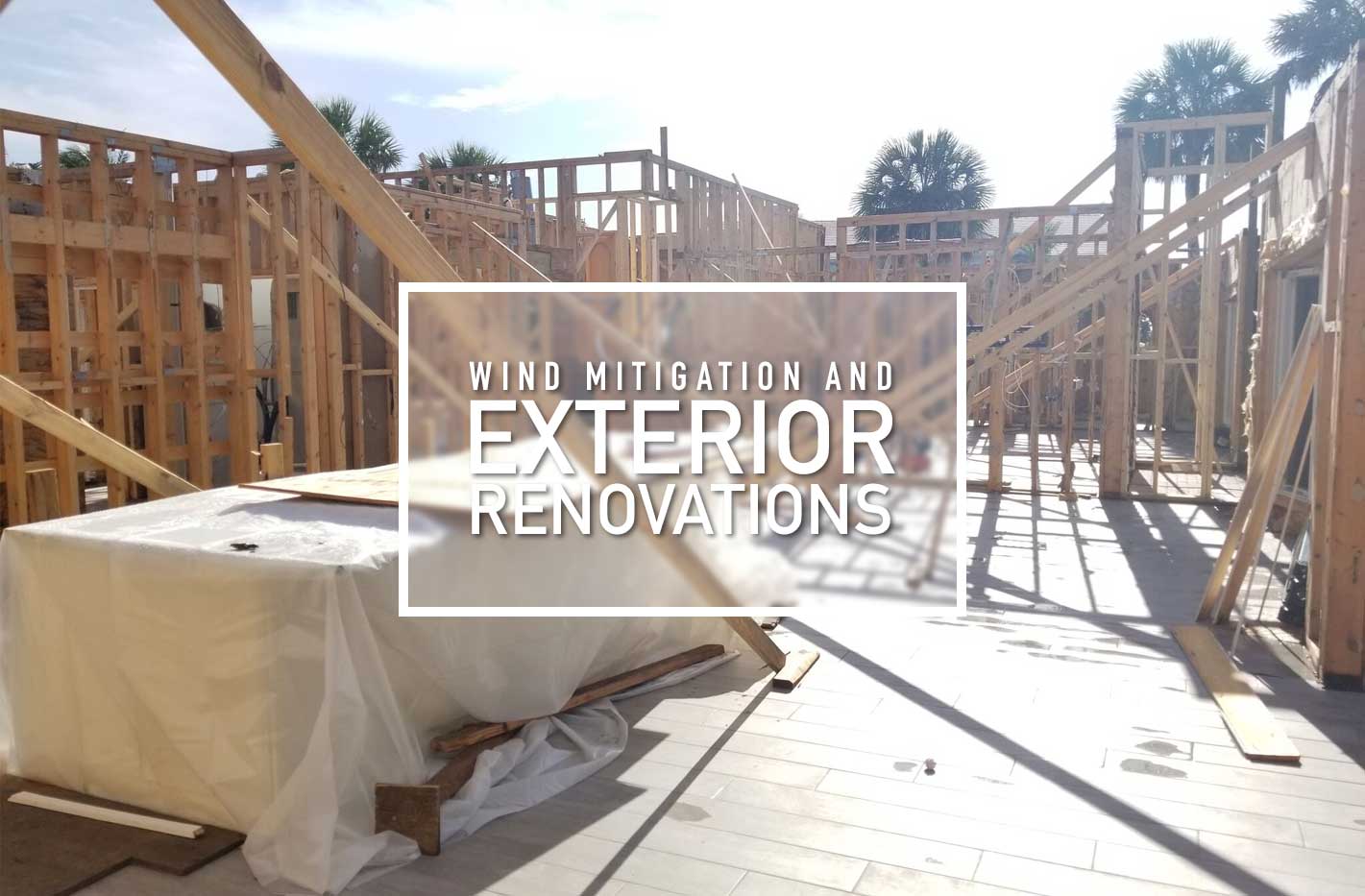 The state of Florida is no stranger to hurricanes. Its closeness to tropic regions is what makes the state vulnerable to these severe tropical storms. Hurricanes are suggested to have winds that travel at a minimum speed of at least 74 miles per hour. These storms usually form over warm waters and then come into contact with land, where most of the damage is done. The damages include the destruction of trees, land, buildings, homes, cars and injuries or death. As a homeowner in Florida, it is a good idea that you invest in wind mitigation for your home with exterior support structures. With these in place you will have a better chance of keeping you, your family and your belongings away from harm. It is also recommended that you hire a licensed and trusted contractor to complete these wind mitigation exterior renovations in your home.
What You Need To Be Aware Of
As a homeowner, whether you are in the process of renovating or not, you need to be aware of the different structural aspects of your home. You need to know these in order to understand how vulnerable your home is to the natural disasters that are likely to occur in your area. It is in your best interest to know the type of roof coverings you have and if they are strong enough to withstand powerful winds and /or heavy rains. Questions you can ask yourself to check for other wind mitigation structures in your home can include:
Do you have efficient roof to deck and roof to wall attachments?
Is the shape of your roof helping the resistance of strong winds and rain?
Was your home built before 2001? According to the building code, houses built prior 2001 are of a lesser standard when compared to the houses built today and thus more vulnerable to natural disasters.
You need to know the answers to these questions in order to ensure that your home is properly equipped. If you are unsure about the state of your home and do not know how to inspect it for the key features that guard against hurricanes and windstorms, you can hire a certified inspector to do a wind mitigation inspection of your home. The inspector will then recommend important features and additions that will reduce the damage to your home. After receiving your recommendations, you can then give them to a quality and trusted contractor, like those at Miller Construction and Design, to complete.
What Do These Wind Mitigation Exterior Renovations Include?
All home owners in Florida are encouraged to install wind mitigation techniques, more especially those that have homes that were built before 2001. These wind mitigation exterior renovations can include:
Installation of strong roof coverings.
Installation of strong roof to deck attachments.
Installation of efficient roof to wall attachments.
Entry door protection (sealing).
Installation of window, door and skylight reinforcements.
Installation of hurricane shutters.
Gable end wall bracing.
Advantages Of Exterior Renovations
Wind mitigation infrastructure is inevitable if you are a homeowner in a place that has a history with hurricanes and strong winds. It is more cost effective to pay for the prevention of damage to your property than having to pay for the repair or replacement of your property and belongings. Benefits of these exterior renovations can include:
Increased survival.
Decreased damage to property and belongings.
Enhanced sense of security.
Paying of lower premiums to property insurers (Cost effective).
These exterior renovations may be time consuming and costly, but in the long run the benefits outweigh the costs. For more information of effective wind mitigation renovations contact us before the next storm season hits!
---
---