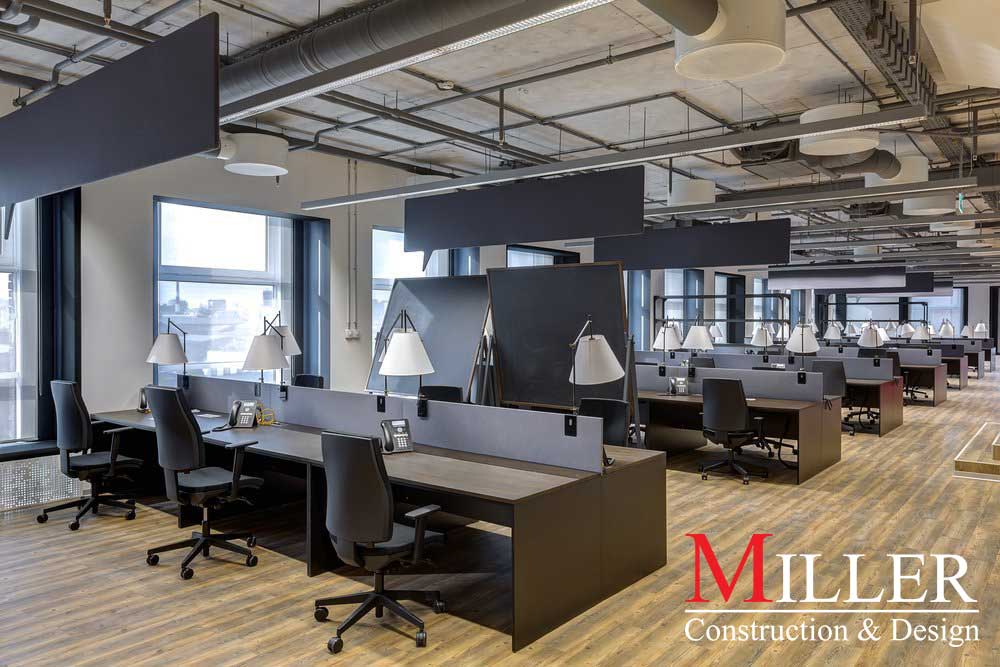 Are your employees lacking productivity? Is customer satisfaction down? Commercial interior remodeling for your office space may just be the perfect solution to kick start efficacy and ensure that your employees feel happy, and produce a better outcome of work. There are a number of ways that you as a business owner can update your commercial space. It's about figuring out what works for the needs of both your office and your employees, in order for your business to run at peak efficiency.
Improve The Structural Integrity
Inspect the property for any signs of degradation or issues. A contractor can do an assessment of the building and address any signs of wear and tear. This includes checking that the frame of the building is sound, the foundation is crack-free and the roof doesn't leak. Consider adding more windows if the space allows for it. An office space that is well-looked after and cared for shows employees that they are valued and prioritized, and makes them feel happier about being at work.
Choose The Layout That Works For Your Business
As a business owner, the decision to go for an open space or traditional cubicle style workspace each come with their own advantages and disadvantages, and the choice should be based on what setup is most inviting for your employees and the type of business you run. While an open space style gives off a more modern aesthetic that encourages creativity and collaboration, while providing plenty of lighting, it can be a noisy and distracting environment. Cubicles provide less of a distraction and may work for more traditional jobs, however employees might feel their creativity is stifled, or feel isolated by the setup, while receiving less natural light and limiting the amount of space in the office. A professional building contractor will be able to advise you on what setup would work best for your space and lighting available, and how to plan the office accordingly.
Make The Office Eco-Friendly
This can include:
adding recycling bins and paper shredders
increasing insulation
changing to energy efficient lights
eliminating excess packaging
emailing instead of printing receipts
Not only do these options help with decreasing the environmental impact, but they also show employees and customers that the business is modern and eco-friendly. Going eco-friendly is good for the environment and saves you money, while increasing the market value of your property and allowing your business to be recognized as an eco-friendly brand – a trait that younger demographics who prioritize sustainability are increasingly responsive to.
Create A More Comfortable Office Space And Decorate Accordingly
Before undergoing any minor or major design projects, it is worth asking for employee feedback about what they do and don't like and what they'd want, in order to properly address their needs. Employees value flexibility, and by being innovative and adaptive, employees will feel valued.
Make sure employees have comfortable chairs and desks, access to kettles, coffee machines and microwaves, and if space permits, a couch area to be used when they need a break. Employees will feel more at home, and that their comfort and happiness is considered a priority in the business. If the budget allows for it, update office technology, either by purchasing new equipment or upgrading software.
When it comes to decorating, going for quality over quantity is key, as a cluttered workspace just starts to look messy. Choose appropriate artwork on the walls (such as posters with motivational messages to increase comradery or other visuals that employees can look at as a distraction from the screen), paint the walls a calming, non-distracting color and add plants and flowers, which are scientifically proven to generate increased brain activity and lower stress hormones. "Green" employees produce double the cognitive performance to that of those in conventional environments.
Ideally, happy workers are productive workers. By making your employees feel like they are well looked after, you'll increase productivity and in turn, increase sales. For more advice on how you can update your commercial property with interior remodeling, call Miller Construction and Design (561) 923-8406 today.
---
---